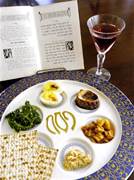 Passover (Pesach in Hebrew) is a major Jewish spring festival, celebrating freedom and family as we remember the Exodus from Egypt more than 3,000 years ago. The main observances of this holiday center around a special home service called the seder (meaning "order"), which includes a festive meal; the prohibition on eating chametz (food made with leavened grains, including wheat, barley, rye, oats, and spelt); and the eating of matzah (an unleavened bread made specially for Passover).
On the 15th day of Nisan in the Hebrew calendar, Jews gather with family and friends in the evening to read from a book called the Haggadah, meaning "telling," which contains the order of prayers, rituals, readings, and songs for the Passover seder. The Haggadah helps us retell the events of the Exodus, so that each generation may learn and remember this story that is so central to Jewish life and history.
Passover is celebrated for either seven or eight days, depending on family and communal custom. In Israel and for most Reform Jews around the world, Pesach is seven days, but for many other Jews, it is eight days.
Passover at BKB
BKB'S ANNUAL PASSOVER COMMUNITY SEDER 5783/2023
AN IN-PERSON SEDER AT BKB AND STREAMING ON FACEBOOK LIVE
THURSDAY, APRIL 6, 6:00 PM
Join Fran and Art Beckerman for a festive community seder.
 FOR THE IN-PERSON SEDER AT BKB:
Space is limited to 48-BKB member households will receive priority if member RSVP's by March 24. RSVP deadline for all is March 31. RSVP to BKB by emailing bkbav@bkbav.org – YOU WILL RECEIVE A REPLY AS TO WHETHER OR NOT YOUR RESERVATION REQUEST WAS ACCEPTED.
BKB will provide:
These seder ritual items-matzah, charoset, maror, parsley, salt water, shank bone/roasted beet, roasted egg, wine/grape juice, and seder plates.
These meal items-matzah ball soup 1st course and desserts.
These serving items-disposable plates, silverware, and paper goods for the family meals.
In-person attendees will provide meals for their families under these dietary rules:
Meals will be meat (no dairy).
Foods that are acceptable under BKB Passover dietary rules: corn, rice, quinoa, nuts, legumes, seeds, chickpeas, millet, lentils, edamame, and fruits and salads (no croutons please).
Foods that are NOT acceptable under BKB Passover dietary rules: Foods that contain these grains: wheat, rye, barley, oats and spelt, i.e. no bread, rolls, pizza, pasta, barley soup, tortillas, crackers, oatmeal, etc. No breaded foods like fried chicken, onion rings, schnitzel, etc.
Fee to attend in-person seder-$10 per person ($40 maximum per household) payable by check or cash at the door to defray BKB expenses.