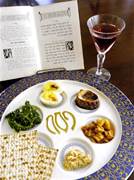 Passover (Pesach in Hebrew) is a major Jewish spring festival, celebrating freedom and family as we remember the Exodus from Egypt more than 3,000 years ago. The main observances of this holiday center around a special home service called the seder (meaning "order"), which includes a festive meal; the prohibition on eating chametz (food made with leavened grains, including wheat, barley, rye, oats, and spelt); and the eating of matzah (an unleavened bread made specially for Passover).
On the 15th day of Nisan in the Hebrew calendar, Jews gather with family and friends in the evening to read from a book called the Haggadah, meaning "telling," which contains the order of prayers, rituals, readings, and songs for the Passover seder. The Haggadah helps us retell the events of the Exodus, so that each generation may learn and remember this story that is so central to Jewish life and history.
Passover is celebrated for either seven or eight days, depending on family and communal custom. In Israel and for most Reform Jews around the world, Pesach is seven days, but for many other Jews, it is eight days.
Passover at BKB
Passover at BKB is observed with a second night, festive community seder. Reservations and a fee are required for this catered event. Please check the BKB calendar for the date and time for the community seder and contact the BKB Office to make reservations and fee payment.